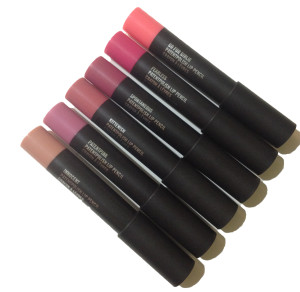 Here they are!! I accidentally went to the MAC store a full week before they were actually launched trying to get these guys! I got 6 different colors. They come in 12 shades total, you can see them all here. I bought the coral color Go For Girlie, the brighter pink Fearless, the medium pinks Spontaneous and Kittenish, the lavender/pink Patentpink, and the nude Innocent.
Lipgloss – Lipstick – All in One
My list of the things that I LOVE about them:
1. They are large gloss/lipstick pencils, just like they appear.
2. They twist up, so they do not require sharpening, which is a huge bonus for me, because I do not carry a sharpener around, unless I am going out on a makeup job, since they are sharp and messy.
3. They stay on pretty well.
4. They have great pigment, so that they are no too glossy.
What I was not expecting (but not necessarily negatives):
1. They are not *quite* as glossy as I was expecting. BUT, I think this actually is better, upon further reflection, because they stay on better than I thought they would as a result. I REALLY like that part.
2. They are more pigmented than I thought, again because I thought they would be more glossy, and again, I think I prefer this.  I thought I would have to wear a lipstick underneath and now I do not.
3. Like I stated above they twist up!! I think this is AWESOME, my ONLY teensy complaint with this is that they aren't every sharp, but it's a small price to pay for not ever having to sharpen them!
Here are some pictures of some of the colors that I have been obsessing over in the last couple weeks. Right now I cannot stop alternating days between Patentpink (the lavender/pink) and Innocent (the nude).
Here is the Patentpink Patentpolish with the MAC prolongwear lipliner Absolutely It mixed with a little Plum lipliner: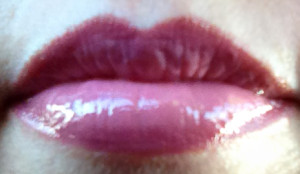 Here is the Innocent Patentpolish with the MAC prolongwear lipliner Nice N Spicy: